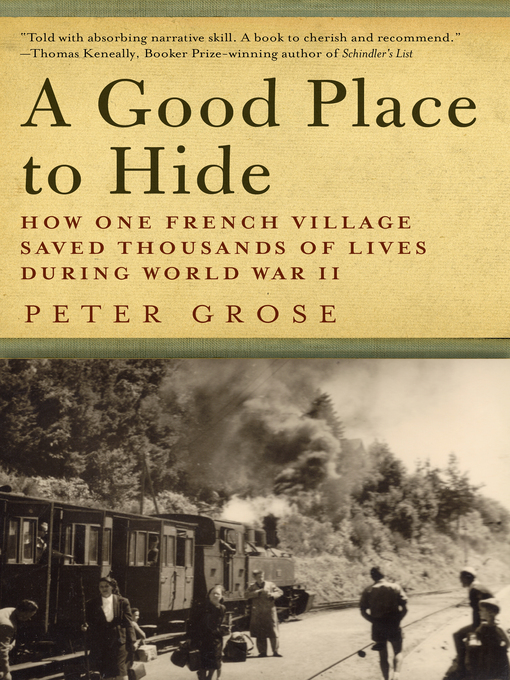 940.53 GRO
A good place to hide : how one French community saved thousands of lives during World War II
New York, NY : Pegasus Books LLC, 2015.
1 online resource (xxviii, 323 pages, 16 unnumbered pages of plates) : illustrations, maps, portraits.
This is the story of an isolated community in the upper reaches of the Loire Valley that conspired to save the lives of 3,500 Jews under the noses of the Germans and the soldiers of Vichy France. It is the story of a pacifist Protestant pastor who broke laws and defied orders to protect the lives of total strangers. It is the story of an eighteen-year-old Jewish boy from Nice who forged 5,000 sets of false identity papers to save other Jews and French Resistance fighters from the Nazi concentration camps. And it is the story of a community of good men and women who offered sanctuary, kindness, solidarity and hospitality to people in desperate need, knowing full well the consequences to themselves.
Overdue
Regular
All copies at Temple Emanu-El are out and at least one is overdue
| | |
| --- | --- |
| ISBN: | |
| ISBN: | |
| Dewey Class No: | 940.53/18350944595 23 |
| Author: | |
| Title: | A good place to hide : how one French community saved thousands of lives during World War II / Peter Grose. |
| VaryingTitle: | How one French community saved thousands of lives during World War II. |
| Edition: | First Pegasus Books hardcover edition. |
| Physical: | 1 online resource (xxviii, 323 pages, 16 unnumbered pages of plates) : illustrations, maps, portraits. |
| ContentType: | |
| MediaType: | |
| CarrierType: | |
| Notes: | Originally published: Sydney : Allen & Unwin, 2014. |
| BibliogrphyNote: | Includes bibliographic references (pages 315-323) and index. |
| Summary: | This is the story of an isolated community in the upper reaches of the Loire Valley that conspired to save the lives of 3,500 Jews under the noses of the Germans and the soldiers of Vichy France. It is the story of a pacifist Protestant pastor who broke laws and defied orders to protect the lives of total strangers. It is the story of an eighteen-year-old Jewish boy from Nice who forged 5,000 sets of false identity papers to save other Jews and French Resistance fighters from the Nazi concentration camps. And it is the story of a community of good men and women who offered sanctuary, kindness, solidarity and hospitality to people in desperate need, knowing full well the consequences to themselves. |
| Subject: | Jews rescue (1939-1945 : World War) |
| Subject: | World War (1939-1945) |
| Subject: | |
| Subject: | |
| Subject: | World War, 1939-1945--Underground movements--France--Le Chambon-sur-Lignon. |
| Subject: | World War, 1939-1945--Jews--Rescue--France--Le Chambon-sur-Lignon. |
| Subject: | |
| Subject: | |
| AE:CorpName: | OverDrive, Inc. |
| Link: | |
| Link: | |
| Link: | |
| Field | Ind | Subfield | Data |
| --- | --- | --- | --- |
| 001 Control No | | | 6374 |
| 005 LastTransaction | | | 20200206182618.0 |
| 006 Data Elem Addl | | | m o d |
| 007 Phys Desc Fixed | | | cr cnu---unuuu |
| 008 Data Elements | | | 150804r20152014nyuabcf ob 001 0 eng d |
| 020 ISBN | | $a ISBN | 978-1-60598-751-4 |
| | | $q | electronic bk. |
| 020 ISBN | | $a ISBN | 978-1-60598-751-4 |
| | | $q | electronic bk. |
| 035 System Ctrl No | | $a System control number | (OCoLC)915597097 |
| 035 System Ctrl No | | $a System control number | (OCoLC)ocn915597097 |
| 037 Acq Source | | $a Stock number | BABB2EC2-7E59-48DE-AAA7-25B376A1D12A |
| | | $b Source of stock no/acquisition | OverDrive, Inc. |
| | | $n Note | http://www.overdrive.com |
| 040 Cataloging Src | | $a Original cataloging agency | TEFOD |
| | | $b Language of cataloging | eng |
| | | $e Description conventions | rda |
| | | $e Description conventions | pn |
| | | $c Transcribing agency | TEFOD |
| | | $d Modifying agency | OCLCO |
| | | $d Modifying agency | BKL |
| | | $d Modifying agency | UtOrBLW |
| 043 GAC | | $a Geographic area code | e-fr--- |
| 049 | | $a | BKLA |
| 082 Dewey Class No | 04 | $a Classification number | 940.53/18350944595 |
| | | $2 Edition number | 23 |
| 099 | | $a | eBOOK |
| 100 ME:PersonalName | 1 | $a Personal name | Grose, Peter, |
| | | $d Dates associated with a name | 1941- |
| 245 Title | 12 | $a Title | A good place to hide : |
| | | $b Remainder of title | how one French community saved thousands of lives during World War II / |
| | | $c Statement of responsibility | Peter Grose. |
| 246 VaryingTitle | 30 | $a Title proper/short title | How one French community saved thousands of lives during World War II. |
| 250 Edition | | $a Edition statement | First Pegasus Books hardcover edition. |
| 264 ProductnNotice | 1 | $a Place of prod/dist/manuf. | New York, NY : |
| | | $b Name of prod./pub./dist./man. | Pegasus Books LLC, |
| | | $c Date of prod/dist/manuf/copyrt | 2015. |
| 300 Physical Desc | | $a Extent | 1 online resource (xxviii, 323 pages, 16 unnumbered pages of plates) : |
| | | $b Other physical details | illustrations, maps, portraits. |
| 336 ContentType | | $a Content type term | text |
| | | $b Content type code | txt |
| | | $2 Source | rdacontent. |
| 337 MediaType | | $a Media type term | computer |
| | | $b Media type code | c |
| | | $2 Source | rdamedia. |
| 338 CarrierType | | $a Carrier type term | online resource |
| | | $b Carrier type code | cr |
| | | $2 Source | rdacarrier. |
| 347 DigitalFileType | | $a File type | text file. |
| 500 General Note | | $a General note | Originally published: Sydney : Allen & Unwin, 2014. |
| 504 BibliogrphyNote | | $a Bibliography, etc. note | Includes bibliographic references (pages 315-323) and index. |
| 505 ContentsNote | 0 | $a Formatted contents note | Preparation. Pastors ; War ; Camps -- Refuge. Jews ; Fun ; Rebellion -- Occupation. Fresh blood ; Forgers ; Arrest ; Switzerland ; Smugglers ; Germans -- Resistance. Violence ; Invasion -- Liberation. Guns ; Victory -- Whatever happened to...? -- Appendix 1. Huguenots -- Appendix 2. The weapons of the spirit. |
| 520 Summary | | $a Summary, etc. note | This is the story of an isolated community in the upper reaches of the Loire Valley that conspired to save the lives of 3,500 Jews under the noses of the Germans and the soldiers of Vichy France. It is the story of a pacifist Protestant pastor who broke laws and defied orders to protect the lives of total strangers. It is the story of an eighteen-year-old Jewish boy from Nice who forged 5,000 sets of false identity papers to save other Jews and French Resistance fighters from the Nazi concentration camps. And it is the story of a community of good men and women who offered sanctuary, kindness, solidarity and hospitality to people in desperate need, knowing full well the consequences to themselves. |
| 588 | 0 | $a | Print version record. |
| 611 Subj:Meeting | 27 | $a Meeting or jurisdiction name | Jews rescue (1939-1945 : World War) |
| | | $2 Source of heading or term | fast |
| | | $0 | (OCoLC)fst01710189. |
| 611 Subj:Meeting | 27 | $a Meeting or jurisdiction name | World War (1939-1945) |
| | | $2 Source of heading or term | fast |
| | | $0 | (OCoLC)fst01180924. |
| 650 Subj:Topic | 0 | $a Topical term | World War, 1939-1945 |
| | | $v Form subdivision | Personal narratives, Jewish. |
| 650 Subj:Topic | 0 | $a Topical term | Jews |
| | | $z Geographic subdivision | France |
| | | $z Geographic subdivision | Le Chambon-sur-Lignon |
| | | $x General subdivision | History |
| | | $y Chronological subdivision | 20th century. |
| 650 Subj:Topic | 0 | $a Topical term | World War, 1939-1945 |
| | | $x General subdivision | Underground movements |
| | | $z Geographic subdivision | France |
| | | $z Geographic subdivision | Le Chambon-sur-Lignon. |
| 650 Subj:Topic | 0 | $a Topical term | World War, 1939-1945 |
| | | $x General subdivision | Jews |
| | | $x General subdivision | Rescue |
| | | $z Geographic subdivision | France |
| | | $z Geographic subdivision | Le Chambon-sur-Lignon. |
| 650 Subj:Topic | 7 | $a Topical term | Jews. |
| | | $2 Source of heading or term | fast |
| | | $0 | (OCoLC)fst00983135. |
| 650 Subj:Topic | 7 | $a Topical term | Underground movements, War. |
| | | $2 Source of heading or term | fast |
| | | $0 | (OCoLC)fst01355184. |
| 651 Subj:Geog | 0 | $a Geographic name | Le Chambon-sur-Lignon (France) |
| | | $x General subdivision | History |
| | | $y Chronological subdivision | 20th century. |
| 651 Subj:Geog | 0 | $a Geographic name | Haute-Loire (France) |
| | | $x General subdivision | History |
| | | $y Chronological subdivision | 20th century. |
| 651 Subj:Geog | 7 | $a Geographic name | France |
| | | $z Geographic subdivision | Haute-Loire. |
| | | $2 Source of heading or term | fast |
| | | $0 | (OCoLC)fst01219478. |
| 651 Subj:Geog | 7 | $a Geographic name | France |
| | | $z Geographic subdivision | Le Chambon-sur-Lignon. |
| | | $2 Source of heading or term | fast |
| | | $0 | (OCoLC)fst01207045. |
| 655 IT:Genre | 7 | $a Genre/form data or focus term | History. |
| | | $2 Source of term | fast |
| | | $0 | (OCoLC)fst01411628. |
| 655 IT:Genre | 4 | $a Genre/form data or focus term | Electronic books. |
| 710 AE:CorpName | 2 | $a Corporate name | OverDrive, Inc. |
| 776 | 08 | $i | Print version: |
| | | $a | Grose, Peter, 1941- author. |
| | | $t | Good place to hide. |
| | | $b | First Pegasus Books hardcover edition |
| | | $z | 9781605986920 |
| | | $w | (OCoLC)881207853. |
| 852 Holdings | | $a Location | TE |
| | | $h Classification part | 940.53 GRO |
| | | $p Barcode | 7088 |
| | | $9 Cost | $0.00 |
| 856 ElectronicLocat | 40 | $u Uniform Resource Identifier | http://digitalbooks.brooklynpubliclibrary.org/ContentDetails.htm?ID=BABB2EC2-7E59-48DE-AAA7-25B376A1D12A |
| | | $z Public note | An electronic book accessible online |
| 856 ElectronicLocat | 40 | $3 Materials specified | Excerpt |
| | | $u Uniform Resource Identifier | http://samples.overdrive.com/?crid=babb2ec2-7e59-48de-aaa7-25b376a1d12a&.epub-sample.overdrive.com |
| 856 ElectronicLocat | 4 | $3 Materials specified | Image |
| | | $u Uniform Resource Identifier | http://images.contentreserve.com/ImageType-100/0044-1/{BABB2EC2-7E59-48DE-AAA7-25B376A1D12A}Img100.jpg |