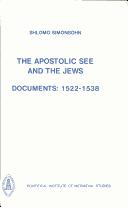 ARCH 261.26 SIM
The Apostolic See and the Jews / History; Addenda, Corrigenda, Bibliography and Indexes
Toronto, Ont., Canada : Pontifical Institute of Mediaeval Studies, 1991.
8 volumes : maps ; 26 cm.
This is the final volume of an eight-part work (1988-1991). Pp. 1-16 contain an additional 17 documents from the period 1262-1516. Pp. 17-19 contain a list of corrections. Pp. 20-60 contain a bibliography of books and articles. Pp. 61-176 contain indexes of persons, places, and subjects. (From the Bibliography of the Vidal Sassoon International Center for the Study of Antisemitism).
Not Available
Donated Materials
There are no copies at Temple Emanu-El available for borrowing
| | |
| --- | --- |
| ISBN: | |
| ISBN: | |
| ISBN: | |
| ISBN: | |
| ISBN: | |
| ISBN: | |
| ISBN: | |
| ISBN: | |
| ISBN: | |
| ISBN: | |
| ISBN: | |
| ISBN: | |
| ISBN: | |
| ISBN: | |
| ISBN: | |
| ISBN: | |
| ISBN: | |
| ISBN: | |
| LC Call No: | BM535 .C38 1988 |
| LC Call No: | BX855 .C386 1988 |
| Dewey Class No: | 261.2/6/09 20 |
| ME:Corp Name: | |
| Title: | The Apostolic See and the Jews / [edited] by Shlomo Simonsohn : History; Addenda, Corrigenda, Bibliography and Indexes. |
| Publisher: | Toronto, Ont., Canada : Pontifical Institute of Mediaeval Studies, 1991. |
| Physical: | 8 volumes : maps ; 26 cm. |
| ContentType: | |
| MediaType: | |
| CarrierType: | |
| Series: | |
| Series: | |
| Notes: | Documents in Latin; prefatory material in English. |
| BibliogrphyNote: | Includes bibliographical references. |
| Summary: | This is the final volume of an eight-part work (1988-1991). Pp. 1-16 contain an additional 17 documents from the period 1262-1516. Pp. 17-19 contain a list of corrections. Pp. 20-60 contain a bibliography of books and articles. Pp. 61-176 contain indexes of persons, places, and subjects. (From the Bibliography of the Vidal Sassoon International Center for the Study of Antisemitism). |
| Summary: | This is the seventh volume of a comprehensive work on papal Jewry policy. The first six volumes presented documents from the period 492-1555. This volume on the history discusses many aspects of papal policy in detail: e.g. canon law, the Crusades, friars and theologians, papal protection, expulsions and forced conversions, blood libels, Host desecration accusations, the Inquisition, jurisdictional conflicts, social discrimination, usury, Judaizers and Jewish influence on Christians, baptism of Jewish children, missionary activity, polemics and disputations, burning of the Talmud, purity of blood and Converso problems. Concludes that all in all, for most of the time before the Counter-Reformation, the Apostolic See conducted a Jewry policy best described as middle-of-the-road - a mixture of protection and discrimination. When papal policy conflicted with that of secular rulers, the Apostolic See generally took second place, although no secular ruler could ignore papal influence. (From the Bibliography of the Vidal Sassoon International Center for the Study of Antisemitism). |
| Subject: | Catholic Church--Relations--Judaism--Papal documents. |
| Subject: | Catholic Church. |
| Subject: | Église catholique--Relations--Judaïsme--Documents pontificaux. |
| Subject: | |
| Subject: | |
| Subject: | |
| Subject: | |
| Subject: | |
| Subject: | |
| Subject: | |
| Subject: | |
| Subject: | |
| Subject: | |
| Subject: | |
| Subject: | Judaïsme--Relations--Église catholique--Documents pontificaux. |
| Subject: | |
| Subject: | |
| Subject: | |
| AE:PersName: | |
| SAE:UnifrmTitle: | Studies and texts (Pontifical Institute of Mediaeval Studies) ; 94-95, 99, 104-106, 109-110. |
| Link: | |
| Field | Ind | Subfield | Data |
| --- | --- | --- | --- |
| 001 Control No | | | 6286 |
| 005 LastTransaction | | | 20190305035445.0 |
| 008 Data Elements | | | 890428m19881991oncb b 001 0 lat |
| 010 LCCN | | $a Record content licensor | 89137153 |
| 014 | | $a | 18637494 |
| | | $b | OCoLC |
| 015 Bibliography No | | $a National bibliography number | C88-94903-1 |
| 015 Bibliography No | | $a National bibliography number | 880949031 |
| | | $2 Source | can |
| 015 Bibliography No | | $a National bibliography number | C880949031 |
| 016 Bib Ctrl No | | $a Record control number | (AMICUS)000008228657 |
| 016 Bib Ctrl No | | $a Record control number | 880949031 |
| 016 Bib Ctrl No | | $a Record control number | 880949031 rev |
| 019 | | $a | 18637494 |
| | | $a | 232967812 |
| 020 ISBN | | $a ISBN | 978-0-88844-094-5 |
| | | $q | (v. 1) |
| 020 ISBN | | $a ISBN | 978-0-88844-094-5 |
| | | $q | (v. 1) |
| 020 ISBN | | $a ISBN | 978-0-88844-105-8 |
| | | $q | (v. 5) |
| 020 ISBN | | $a ISBN | 978-0-88844-105-8 |
| | | $q | (v. 5) |
| 020 ISBN | | $a ISBN | 978-0-88844-106-5 |
| | | $q | (v. 6) |
| 020 ISBN | | $a ISBN | 978-0-88844-106-5 |
| | | $q | (v. 6) |
| 020 ISBN | | $a ISBN | 978-0-88844-095-2 |
| | | $q | (v. 2) |
| 020 ISBN | | $a ISBN | 978-0-88844-095-2 |
| | | $q | (v. 2) |
| 020 ISBN | | $a ISBN | 978-0-88844-099-0 |
| | | $q | (v. 3) |
| 020 ISBN | | $a ISBN | 978-0-88844-099-0 |
| | | $q | (v. 3) |
| 020 ISBN | | $a ISBN | 978-0-88844-104-1 |
| | | $q | (v. 4) |
| 020 ISBN | | $a ISBN | 978-0-88844-104-1 |
| | | $q | (v. 4) |
| 020 ISBN | | $a ISBN | 978-0-88844-109-6 |
| | | $q | (v. 7) |
| 020 ISBN | | $a ISBN | 978-0-88844-109-6 |
| | | $q | (v. 7) |
| 020 ISBN | | $a ISBN | 978-0-88844-110-2 |
| | | $q | (v. 8) |
| 020 ISBN | | $a ISBN | 978-0-88844-110-2 |
| | | $q | (v. 8) |
| 020 ISBN | | $a ISBN | 978-0-88844-094-5 (v. 1) |
| 020 ISBN | | $a ISBN | 978-0-88844-095-2 (v. 2) |
| 035 System Ctrl No | | $a System control number | (OCoLC)27770808 |
| | | $z Canceled/invalid control no. | (OCoLC)18637494 |
| | | $z Canceled/invalid control no. | (OCoLC)232967812 |
| 035 System Ctrl No | | $a System control number | (OCoLC)ocm27770808 |
| 035 System Ctrl No | | $a System control number | (EXLNZ-01ALLIANCE |
| | | $N | ETWORK)99126531480001451 |
| 035 System Ctrl No | | $a System control number | (OCoLC)18637494 |
| 035 System Ctrl No | | $a System control number | (WaU)b25003501-01alliance |
| | | $u | w |
| 035 System Ctrl No | | $a System control number | 99106059690001452 |
| 040 Cataloging Src | | $a Original cataloging agency | DLC |
| | | $b Language of cataloging | eng |
| | | $c Transcribing agency | DLC |
| | | $d Modifying agency | NLGGC |
| | | $d Modifying agency | YDXCP |
| | | $d Modifying agency | OCLCG |
| | | $d Modifying agency | BAKER |
| | | $d Modifying agency | NLC |
| | | $d Modifying agency | CUI |
| | | $d Modifying agency | BDX |
| | | $d Modifying agency | OCLCO |
| | | $d Modifying agency | OCLCF |
| | | $d Modifying agency | P4I |
| | | $d Modifying agency | OCLCQ |
| | | $d Modifying agency | OCL |
| | | $d Modifying agency | OCLCO |
| | | $d Modifying agency | OCL |
| | | $d Modifying agency | OCLCO |
| | | $d Modifying agency | OCLCQ |
| | | $d Modifying agency | OCLCO |
| | | $d Modifying agency | ISS |
| | | $d Modifying agency | OCLCQ |
| | | $d Modifying agency | TYC |
| | | $d Modifying agency | XOJ |
| | | $d Modifying agency | J9U |
| | | $d Modifying agency | QE2 |
| 041 Language Code | 0 | $a Text/soundtrack/separate title | lat |
| | | $a Text/soundtrack/separate title | eng |
| 043 GAC | | $a Geographic area code | e-vc--- |
| 045 Time Period | | $a Time period code | r9s6 |
| 049 | | $a | MAIN |
| 050 LC Call No | 00 | $a Classification number | BM535 |
| | | $b Item number | .C38 1988 |
| 050 LC Call No | 14 | $a Classification number | BX855 |
| | | $b Item number | .C386 1988 |
| 055 Canada Class No | 00 | $a Classification number | BM535 |
| | | $b Item number | C38 1988 |
| 082 Dewey Class No | 00 | $a Classification number | 261.2/6/09 |
| | | $2 Edition number | 20 |
| 084 Other Class No | | $a Classification number | 15.70 |
| | | $2 Source of number | bcl |
| 084 Other Class No | | $a Classification number | cci1icc |
| | | $2 Source of number | lacc |
| 110 ME:Corp Name | 2 | $a Corporate/jurisdiction name | Catholic Church. |
| | | $b Subordinate unit | Pope. |
| 245 Title | 14 | $a Title | The Apostolic See and the Jews / |
| | | $c Statement of responsibility | [edited] by Shlomo Simonsohn : |
| | | $b Remainder of title | History; Addenda, Corrigenda, Bibliography and Indexes. |
| 260 PublicationInfo | | $a Place of publication, dist. | Toronto, Ont., Canada : |
| | | $b Name of publisher, dist, etc | Pontifical Institute of Mediaeval Studies, |
| | | $c Date of publication, dist, etc | 1991. |
| 300 Physical Desc | | $a Extent | 8 volumes : |
| | | $b Other physical details | maps ; |
| | | $c Dimensions | 26 cm. |
| 336 ContentType | | $a Content type term | text |
| | | $b Content type code | txt |
| | | $2 Source | rdacontent |
| 337 MediaType | | $a Media type term | unmediated |
| | | $b Media type code | n |
| | | $2 Source | rdamedia |
| 338 CarrierType | | $a Carrier type term | volume |
| | | $b Carrier type code | nc |
| | | $2 Source | rdacarrier |
| 440 Series Title | 4 | $a Title | The Apostolic See and the Jews |
| 490 SeriesStatement | 1 | $a Series statement | Studies and texts, |
| | | $x ISSN | 0082-5328 ; |
| | | $v Vol. no./sequential designatn | 94, 95, 99, 104-106, 109-110 |
| 500 General Note | | $a General note | Documents in Latin; prefatory material in English. |
| 504 BibliogrphyNote | | $a Bibliography, etc. note | Includes bibliographical references. |
| 505 ContentsNote | 00 | $g Miscellaneous information | ([1]) |
| | | $t Title | Documents, 492-1404 -- |
| | | $g Miscellaneous information | ([2]) |
| | | $t Title | Documents, 1394-1464 -- |
| | | $g Miscellaneous information | ([3]) |
| | | $t Title | Documents, 1464-1521 -- |
| | | $g Miscellaneous information | ([4]) |
| | | $t Title | Documents, 1522-1538 -- |
| | | $g Miscellaneous information | ([5]) |
| | | $t Title | Documents, 1539-1545 -- |
| | | $g Miscellaneous information | ([6]) |
| | | $t Title | Documents, 1546-1555 -- |
| | | $g Miscellaneous information | ([7]) |
| | | $t Title | History / |
| | | $r Statement of responsibility | by Shlomo Simonsohn -- |
| | | $g Miscellaneous information | ([8]) |
| | | $t Title | Addenda, corrigenda, bibliography and indexes / |
| | | $r Statement of responsibility | by Shlomo Simonsohn. |
| 520 Summary | | $a Summary, etc. note | This is the final volume of an eight-part work (1988-1991). Pp. 1-16 contain an additional 17 documents from the period 1262-1516. Pp. 17-19 contain a list of corrections. Pp. 20-60 contain a bibliography of books and articles. Pp. 61-176 contain indexes of persons, places, and subjects. |
| | | $c | (From the Bibliography of the Vidal Sassoon International Center for the Study of Antisemitism). |
| 520 Summary | | $a Summary, etc. note | This is the seventh volume of a comprehensive work on papal Jewry policy. The first six volumes presented documents from the period 492-1555. This volume on the history discusses many aspects of papal policy in detail: e.g. canon law, the Crusades, friars and theologians, papal protection, expulsions and forced conversions, blood libels, Host desecration accusations, the Inquisition, jurisdictional conflicts, social discrimination, usury, Judaizers and Jewish influence on Christians, baptism of Jewish children, missionary activity, polemics and disputations, burning of the Talmud, purity of blood and Converso problems. Concludes that all in all, for most of the time before the Counter-Reformation, the Apostolic See conducted a Jewry policy best described as middle-of-the-road - a mixture of protection and discrimination. When papal policy conflicted with that of secular rulers, the Apostolic See generally took second place, although no secular ruler could ignore papal influence. |
| | | $c | (From the Bibliography of the Vidal Sassoon International Center for the Study of Antisemitism). |
| 610 Subj:CorpName | 20 | $a Corporate name | Catholic Church |
| | | $x General subdivision | Relations |
| | | $x General subdivision | Judaism |
| | | $v Form subdivision | Papal documents. |
| 610 Subj:CorpName | 27 | $a Corporate name | Catholic Church. |
| | | $2 Source of heading or term | fast |
| | | $0 | (OCoLC)fst00531720 |
| 610 Subj:CorpName | 26 | $a Corporate name | Église catholique |
| | | $x General subdivision | Relations |
| | | $x General subdivision | Judaïsme |
| | | $x General subdivision | Documents pontificaux. |
| 650 Subj:Topic | 0 | $a Topical term | Judaism |
| | | $x General subdivision | Relations |
| | | $x General subdivision | Catholic Church |
| | | $v Form subdivision | Papal documents. |
| 650 Subj:Topic | 0 | $a Topical term | Jews |
| | | $x General subdivision | Legal status, laws, etc. |
| | | $v Form subdivision | Papal documents. |
| 650 Subj:Topic | 0 | $a Topical term | Church history |
| | | $y Chronological subdivision | Middle Ages, 600-1500 |
| | | $v Form subdivision | Sources. |
| 650 Subj:Topic | 0 | $a Topical term | Civilization, Medieval |
| | | $x General subdivision | Jewish influences. |
| 650 Subj:Topic | 7 | $a Topical term | Church history |
| | | $x General subdivision | Middle Ages |
| | | $x General subdivision | Sources. |
| | | $2 Source of heading or term | fast |
| | | $0 | (OCoLC)fst01711207 |
| 650 Subj:Topic | 7 | $a Topical term | Civilization, Medieval |
| | | $x General subdivision | Jewish influences. |
| | | $2 Source of heading or term | fast |
| | | $0 | (OCoLC)fst00863055 |
| 650 Subj:Topic | 7 | $a Topical term | Interfaith relations. |
| | | $2 Source of heading or term | fast |
| | | $0 | (OCoLC)fst01353343 |
| 650 Subj:Topic | 7 | $a Topical term | Jews |
| | | $x General subdivision | Legal status, laws, etc. |
| | | $2 Source of heading or term | fast |
| | | $0 | (OCoLC)fst00983297 |
| 650 Subj:Topic | 7 | $a Topical term | Judaism. |
| | | $2 Source of heading or term | fast |
| | | $0 | (OCoLC)fst00984280 |
| 650 Subj:Topic | 17 | $a Topical term | Apostolische Stoel. |
| | | $2 Source of heading or term | gtt |
| 650 Subj:Topic | 17 | $a Topical term | Joden. |
| | | $2 Source of heading or term | gtt |
| 650 Subj:Topic | 6 | $a Topical term | Judaïsme |
| | | $x General subdivision | Relations |
| | | $x General subdivision | Église catholique |
| | | $x General subdivision | Documents pontificaux. |
| 650 Subj:Topic | 6 | $a Topical term | Église |
| | | $x General subdivision | Histoire |
| | | $y Chronological subdivision | 600-1500 (Moyen Age) |
| | | $x General subdivision | Sources. |
| 650 Subj:Topic | 6 | $a Topical term | Juifs |
| | | $x General subdivision | Histoire |
| | | $y Chronological subdivision | 70-1789 |
| | | $x General subdivision | Sources. |
| 650 Subj:Topic | 6 | $a Topical term | Bulles pontificales. |
| 655 IT:Genre | 7 | $a Genre/form data or focus term | Papal documents. |
| | | $2 Source of term | fast |
| | | $0 | (OCoLC)fst01423838. |
| 700 AE:PersName | 1 | $a Personal name | Simonsohn, Shlomo, |
| | | $d Dates of flourishing | 1923- |
| 776 | 08 | $i | Online version: |
| | | $a | Catholic Church. Pope. |
| | | $t | Apostolic See and the Jews. |
| | | $d | Toronto, Ont., Canada : Pontifical Institute of Mediaeval Studies, ©1988-©1991 |
| | | $w | (OCoLC)579292389. |
| 830 SAE:UnifrmTitle | 0 | $a Uniform title | Studies and texts (Pontifical Institute of Mediaeval Studies) ; |
| | | $v Volume/sequential designation | 94-95, 99, 104-106, 109-110. |
| 852 Holdings | | $a Location | TE |
| | | $h Classification part | ARCH 261.26 SIM |
| | | $p Barcode | 6977 |
| | | $9 Cost | $0.00 |
| 852 Holdings | | $a Location | TE |
| | | $h Classification part | ARCH 261.26 SIM |
| | | $p Barcode | 6978 |
| | | $9 Cost | $0.00 |
| 853 CaptionsBasic | 33 | $8 | 1 |
| | | $a | v. |
| 856 ElectronicLocat | 4 | $3 Materials specified | Cover image |
| | | $u Uniform Resource Identifier | https://covers.openlibrary.org/b/id/5349008-M.jpg |