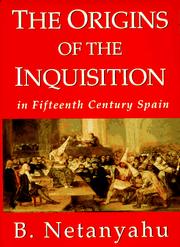 909.04 NET
The origins of the Inquisition in fifteenth century Spain
New York : Random House, [1995]
xxii, 1384 pages : illustrations ; 25 cm.
The Spanish Inquisition was responsible for one of the fiercest repressions in human history. It fused the triple evil of a police state, a totalitarian ideology, and racial persecution. Its terrible reverberations have been felt in our own century, and are likely to be felt in the next. Yet for all its notoriety, its origins have never been fully explored or clearly understood before now. What caused this monstrous attack upon Spain's so-called conversos - the Christian descendants of the Jews who had been forced to convert during the anti-Semitic riots that swept across Spain at the end of the fourteenth century? Were the thousands of conversos who died at the hands of the Inquisition in fact secretly still Jews, only pretending to be good Christians, as the Inquisition charged and as most scholars continue to believe? In this magnum opus, the renowned scholar B. Netanyahu shows us that this claim is groundless. After a lifetime of research in long-unexamined Spanish sources, he reveals that at the time of the Inquisition, almost all conversos were in fact full-fledged Christians, and that the few Judaizers among them had dwindled into insignificance. The vast machinery of the Inquisition could not have been founded to kill a dying movement. What, then, was its purpose? The Origins of the Inquisition answers this question definitively. By examining Spanish anti-Semitism from its origins, Professor Netanyahu demonstrates that the brutal anti-converso movement that led to the Inquisition was the same one responsible for the massacre of Jews in Spain in 1391 and the ensuing mass conversion of Spanish Jews (at sword-point) to Christianity. The rapid rise of the conversos to high royal offices - higher, even, than those attained by their Jewish forefathers - made them the target of the same forces that had persecuted the Jews. It was to remove the conversos from their influential positions, and to prevent their intermarriage with the Spanish people, that they were accused of being secret Judaizers and members of a "corrupt" race that would "pollute" the Spanish blood. This was the first time that extreme anti-Semitism was wedded to a theory of race - a union that would dramatically affect the course of modern history.
Available
Donated Materials
1 copy available at Temple Emanu-El
| | |
| --- | --- |
| ISBN: | |
| ISBN: | |
| LC Call No: | BX1735 .N48 1995 |
| Dewey Class No: | 272/.2/0946 20 |
| Author: | |
| Title: | The origins of the Inquisition in fifteenth century Spain / B. Netanyahu. |
| Edition: | First Edition. |
| Physical: | xxii, 1384 pages : illustrations ; 25 cm. |
| ContentType: | |
| MediaType: | |
| CarrierType: | |
| BibliogrphyNote: | Includes bibliographical references (pages 1323-1348) and index. |
| Summary: | The Spanish Inquisition was responsible for one of the fiercest repressions in human history. It fused the triple evil of a police state, a totalitarian ideology, and racial persecution. Its terrible reverberations have been felt in our own century, and are likely to be felt in the next. Yet for all its notoriety, its origins have never been fully explored or clearly understood before now. What caused this monstrous attack upon Spain's so-called conversos - the Christian descendants of the Jews who had been forced to convert during the anti-Semitic riots that swept across Spain at the end of the fourteenth century? Were the thousands of conversos who died at the hands of the Inquisition in fact secretly still Jews, only pretending to be good Christians, as the Inquisition charged and as most scholars continue to believe? In this magnum opus, the renowned scholar B. Netanyahu shows us that this claim is groundless. After a lifetime of research in long-unexamined Spanish sources, he reveals that at the time of the Inquisition, almost all conversos were in fact full-fledged Christians, and that the few Judaizers among them had dwindled into insignificance. The vast machinery of the Inquisition could not have been founded to kill a dying movement. What, then, was its purpose? The Origins of the Inquisition answers this question definitively. By examining Spanish anti-Semitism from its origins, Professor Netanyahu demonstrates that the brutal anti-converso movement that led to the Inquisition was the same one responsible for the massacre of Jews in Spain in 1391 and the ensuing mass conversion of Spanish Jews (at sword-point) to Christianity. The rapid rise of the conversos to high royal offices - higher, even, than those attained by their Jewish forefathers - made them the target of the same forces that had persecuted the Jews. It was to remove the conversos from their influential positions, and to prevent their intermarriage with the Spanish people, that they were accused of being secret Judaizers and members of a "corrupt" race that would "pollute" the Spanish blood. This was the first time that extreme anti-Semitism was wedded to a theory of race - a union that would dramatically affect the course of modern history. |
| Subject: | |
| Subject: | |
| Subject: | |
| Subject: | |
| Subject: | |
| Subject: | |
| Subject: | |
| Subject: | |
| Subject: | |
| Subject: | |
| Subject: | |
| Subject: | |
| Subject: | |
| Subject: | |
| Subject: | |
| Subject: | |
| Subject: | |
| Link: | |
| Link: | |
| Link: | |
| Field | Ind | Subfield | Data |
| --- | --- | --- | --- |
| 001 Control No | | | 6283 |
| 005 LastTransaction | | | 20190305035445.0 |
| 008 Data Elements | | | 920318s1995 nyua b 001 0 eng |
| 010 LCCN | | $a Record content licensor | 92053643 |
| 015 Bibliography No | | $a National bibliography number | GB9571696 |
| | | $2 Source | bnb |
| 019 | | $a | 60252951 |
| | | $a | 975292630 |
| | | $a | 1000884938 |
| | | $a | 1037267932 |
| | | $a | 1049751365 |
| 020 ISBN | | $a ISBN | 978-0-679-41065-2 |
| 020 ISBN | | $a ISBN | 978-0-679-41065-2 |
| 035 System Ctrl No | | $a System control number | (OCoLC)25748104 |
| | | $z Canceled/invalid control no. | (OCoLC)60252951 |
| | | $z Canceled/invalid control no. | (OCoLC)975292630 |
| | | $z Canceled/invalid control no. | (OCoLC)1000884938 |
| | | $z Canceled/invalid control no. | (OCoLC)1037267932 |
| | | $z Canceled/invalid control no. | (OCoLC)1049751365 |
| 035 System Ctrl No | | $a System control number | (OCoLC)ocm25748104 |
| 035 System Ctrl No | | $a System control number | (EXLNZ-01ALLIANCE |
| | | $N | ETWORK)9997186750001451 |
| 035 System Ctrl No | | $a System control number | 99138753210001452 |
| 040 Cataloging Src | | $a Original cataloging agency | DLC |
| | | $b Language of cataloging | eng |
| | | $e Description conventions | rda |
| | | $c Transcribing agency | DLC |
| | | $d Modifying agency | PGC |
| | | $d Modifying agency | EL$ |
| | | $d Modifying agency | NLGGC |
| | | $d Modifying agency | BTCTA |
| | | $d Modifying agency | YDXCP |
| | | $d Modifying agency | G8V |
| | | $d Modifying agency | UKV3G |
| | | $d Modifying agency | DEBBG |
| | | $d Modifying agency | RBN |
| | | $d Modifying agency | PSM |
| | | $d Modifying agency | GBVCP |
| | | $d Modifying agency | OCLCF |
| | | $d Modifying agency | OCLCQ |
| | | $d Modifying agency | OCLCO |
| | | $d Modifying agency | OCLCQ |
| | | $d Modifying agency | OCLCO |
| | | $d Modifying agency | OCLCQ |
| | | $d Modifying agency | CSJ |
| | | $d Modifying agency | DHA |
| | | $d Modifying agency | OCLCQ |
| | | $d Modifying agency | ALMSI |
| | | $d Modifying agency | OCLCQ |
| | | $d Modifying agency | CCH |
| | | $d Modifying agency | OCLCA |
| | | $d Modifying agency | OCLCQ |
| | | $d Modifying agency | GZN |
| | | $d Modifying agency | OCLCQ |
| | | $d Modifying agency | OCLCO |
| | | $d Modifying agency | CPS |
| | | $d Modifying agency | HDC |
| 043 GAC | | $a Geographic area code | e-sp--- |
| 049 | | $a | MAIN |
| 050 LC Call No | 00 | $a Classification number | BX1735 |
| | | $b Item number | .N48 1995 |
| 060 NLM Call No | 4 | $a Classification number | 000087662 |
| 082 Dewey Class No | 00 | $a Classification number | 272/.2/0946 |
| | | $2 Edition number | 20 |
| 084 Other Class No | | $a Classification number | 11.52 |
| | | $2 Source of number | bcl |
| 084 Other Class No | | $a Classification number | 15.70 |
| | | $2 Source of number | bcl |
| 084 Other Class No | | $a Classification number | 15.08 |
| | | $2 Source of number | bcl |
| 084 Other Class No | | $a Classification number | 15.66 |
| | | $2 Source of number | bcl |
| 084 Other Class No | | $a Classification number | NN 3135 |
| | | $2 Source of number | rvk |
| 084 Other Class No | | $a Classification number | NV 5700 |
| | | $2 Source of number | rvk |
| 084 Other Class No | | $a Classification number | 7,34 |
| | | $2 Source of number | ssgn |
| 100 ME:PersonalName | 1 | $a Personal name | Netanyahu, B. |
| | | $q Fuller form of name | (Benzion), |
| | | $d Dates associated with a name | 1910-2012. |
| 245 Title | 14 | $a Title | The origins of the Inquisition in fifteenth century Spain / |
| | | $c Statement of responsibility | B. Netanyahu. |
| 250 Edition | | $a Edition statement | First Edition. |
| 264 ProductnNotice | 1 | $a Place of prod/dist/manuf. | New York : |
| | | $b Name of prod./pub./dist./man. | Random House, |
| | | $c Date of prod/dist/manuf/copyrt | [1995] |
| 264 ProductnNotice | 4 | $c Date of prod/dist/manuf/copyrt | ©1995 |
| 300 Physical Desc | | $a Extent | xxii, 1384 pages : |
| | | $b Other physical details | illustrations ; |
| | | $c Dimensions | 25 cm. |
| 336 ContentType | | $a Content type term | text |
| | | $b Content type code | txt |
| | | $2 Source | rdacontent |
| 337 MediaType | | $a Media type term | unmediated |
| | | $b Media type code | n |
| | | $2 Source | rdamedia |
| 338 CarrierType | | $a Carrier type term | volume |
| | | $b Carrier type code | nc |
| | | $2 Source | rdacarrier |
| 504 BibliogrphyNote | | $a Bibliography, etc. note | Includes bibliographical references (pages 1323-1348) and index. |
| 505 ContentsNote | 0 | $a Formatted contents note | Historical background -- The reign of Juan II -- Enrique IV and the Catholic kings -- The origins of the Inquisition -- Appendices. |
| 520 Summary | | $a Summary, etc. note | The Spanish Inquisition was responsible for one of the fiercest repressions in human history. It fused the triple evil of a police state, a totalitarian ideology, and racial persecution. Its terrible reverberations have been felt in our own century, and are likely to be felt in the next. Yet for all its notoriety, its origins have never been fully explored or clearly understood before now. What caused this monstrous attack upon Spain's so-called conversos - the Christian descendants of the Jews who had been forced to convert during the anti-Semitic riots that swept across Spain at the end of the fourteenth century? Were the thousands of conversos who died at the hands of the Inquisition in fact secretly still Jews, only pretending to be good Christians, as the Inquisition charged and as most scholars continue to believe? In this magnum opus, the renowned scholar B. Netanyahu shows us that this claim is groundless. After a lifetime of research in long-unexamined Spanish sources, he reveals that at the time of the Inquisition, almost all conversos were in fact full-fledged Christians, and that the few Judaizers among them had dwindled into insignificance. The vast machinery of the Inquisition could not have been founded to kill a dying movement. What, then, was its purpose? The Origins of the Inquisition answers this question definitively. By examining Spanish anti-Semitism from its origins, Professor Netanyahu demonstrates that the brutal anti-converso movement that led to the Inquisition was the same one responsible for the massacre of Jews in Spain in 1391 and the ensuing mass conversion of Spanish Jews (at sword-point) to Christianity. The rapid rise of the conversos to high royal offices - higher, even, than those attained by their Jewish forefathers - made them the target of the same forces that had persecuted the Jews. It was to remove the conversos from their influential positions, and to prevent their intermarriage with the Spanish people, that they were accused of being secret Judaizers and members of a "corrupt" race that would "pollute" the Spanish blood. This was the first time that extreme anti-Semitism was wedded to a theory of race - a union that would dramatically affect the course of modern history. |
| 650 Subj:Topic | 0 | $a Topical term | Inquisition |
| | | $z Geographic subdivision | Spain. |
| 650 Subj:Topic | 0 | $a Topical term | Christian converts from Judaism |
| | | $x General subdivision | History. |
| 650 Subj:Topic | 0 | $a Topical term | Jews |
| | | $z Geographic subdivision | Spain |
| | | $x General subdivision | History. |
| 650 Subj:Topic | 0 | $a Topical term | Antisemitism |
| | | $z Geographic subdivision | Spain |
| | | $x General subdivision | History. |
| 650 Subj:Topic | 1 | $a Topical term | Jews |
| | | $z Geographic subdivision | Spain |
| | | $x General subdivision | History. |
| 650 Subj:Topic | 7 | $a Topical term | Antisemitism. |
| | | $2 Source of heading or term | fast |
| | | $0 | (OCoLC)fst00810769 |
| 650 Subj:Topic | 7 | $a Topical term | Christian converts from Judaism. |
| | | $2 Source of heading or term | fast |
| | | $0 | (OCoLC)fst00858969 |
| 650 Subj:Topic | 7 | $a Topical term | Inquisition. |
| | | $2 Source of heading or term | fast |
| | | $0 | (OCoLC)fst00973796 |
| 650 Subj:Topic | 7 | $a Topical term | Jews. |
| | | $2 Source of heading or term | fast |
| | | $0 | (OCoLC)fst00983135 |
| 650 Subj:Topic | 17 | $a Topical term | Oorsprong. |
| | | $2 Source of heading or term | gtt |
| 650 Subj:Topic | 17 | $a Topical term | Inquisitie. |
| | | $2 Source of heading or term | gtt |
| 650 Subj:Topic | 7 | $a Topical term | Inquisition |
| | | $2 Source of heading or term | gnd |
| 650 Subj:Topic | 7 | $a Topical term | Vorgeschichte |
| | | $2 Source of heading or term | gnd |
| 650 Subj:Topic | 07 | $a Topical term | Spanien. |
| | | $2 Source of heading or term | swd |
| 650 Subj:Topic | 4 | $a Topical term | Marranos (Judíos) |
| | | $x General subdivision | Historia. |
| 650 Subj:Topic | 4 | $a Topical term | Judíos en España |
| | | $x General subdivision | Historia. |
| 650 Subj:Topic | 4 | $a Topical term | Antisemitismo |
| | | $z Geographic subdivision | España |
| | | $x General subdivision | Historia. |
| 651 Subj:Geog | 7 | $a Geographic name | Spain. |
| | | $2 Source of heading or term | fast |
| | | $0 | (OCoLC)fst01204303 |
| 651 Subj:Geog | 7 | $a Geographic name | Spanien |
| | | $2 Source of heading or term | gnd. |
| 653 IT:Uncontrol | 0 | $a Uncontrolled term | Antisemitism |
| | | $a Uncontrolled term | History |
| | | $a Uncontrolled term | Spain |
| 653 IT:Uncontrol | 0 | $a Uncontrolled term | Christian converts from Judaism |
| | | $a Uncontrolled term | History |
| 653 IT:Uncontrol | 0 | $a Uncontrolled term | Geschichte |
| | | $a Uncontrolled term | 1400-1500 |
| 653 IT:Uncontrol | 0 | $a Uncontrolled term | Inquisition |
| | | $a Uncontrolled term | Spain |
| 653 IT:Uncontrol | 0 | $a Uncontrolled term | Jews |
| | | $a Uncontrolled term | History |
| | | $a Uncontrolled term | Spain |
| 655 IT:Genre | 7 | $a Genre/form data or focus term | History. |
| | | $2 Source of term | fast |
| | | $0 | (OCoLC)fst01411628. |
| 776 | 08 | $i | Online version: |
| | | $a | Netanyahu, B. (Benzion), 1910. |
| | | $t | Origins of the Inquisition in fifteenth century Spain. |
| | | $b | 1st ed. |
| | | $d | New York : Random House, ©1995 |
| | | $w | (OCoLC)624419831. |
| 852 Holdings | | $a Location | TE |
| | | $h Classification part | 909.04 NET |
| | | $p Barcode | 6974 |
| | | $9 Cost | $0.00 |
| 856 ElectronicLocat | 41 | $3 Materials specified | Table of contents |
| | | $u Uniform Resource Identifier | http://www.gbv.de/dms/bowker/toc/9780679410652.pdf |
| 856 ElectronicLocat | 42 | $3 Materials specified | Publisher description |
| | | $u Uniform Resource Identifier | http://catdir.loc.gov/catdir/description/random0412/92053643.html |
| 856 ElectronicLocat | 4 | $3 Materials specified | Cover image |
| | | $u Uniform Resource Identifier | https://covers.openlibrary.org/b/id/417464-M.jpg |