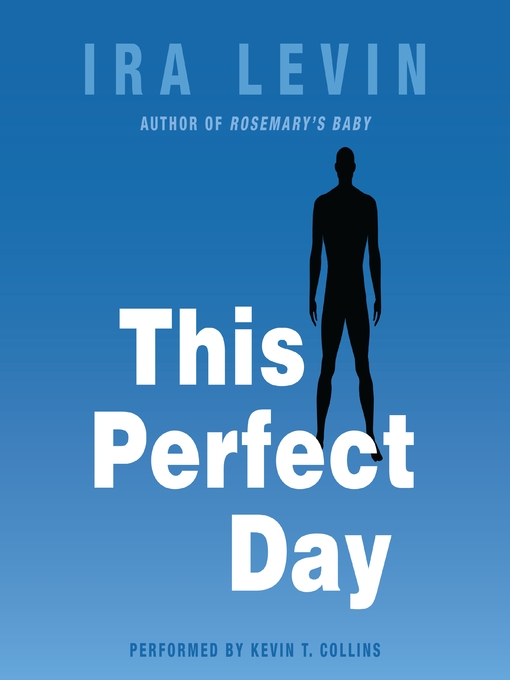 FIC LEV
This perfect day
New York : Harper Audio, 2014.
1 online resource (1 sound file (11 hr., 15 min., 27 sec.)) : digital.
By the author of Rosemary's Baby, a horrifying journey into a future only Ira Levin could imagine.Considered one of the great dystopian novels--alongside Anthony Burgess' A Clockwork Orange and Aldous Huxley's Brave New World--Ira Levin's frightening glimpse into the future continues to fascinate readers even forty years after publication.The story is set in a seemingly perfect global society...
Available
Regular
1 copy available at Temple Emanu-El
| | |
| --- | --- |
| ISBN: | |
| ISBN: | |
| Dewey Class No: | 813/.5/4 23 |
| Author: | |
| Title: | |
| Edition: | Unabridged. |
| Publisher: | New York : Harper Audio, 2014. |
| Physical: | 1 online resource (1 sound file (11 hr., 15 min., 27 sec.)) : digital. |
| ContentType: | |
| MediaType: | |
| CarrierType: | |
| Notes: | "Tracks every 3 minutes for easy bookmarking"--Container. |
| ParticipantNote: | Read by Kevin T. Collins. |
| Summary: | By the author of Rosemary's Baby, a horrifying journey into a future only Ira Levin could imagine.Considered one of the great dystopian novels--alongside Anthony Burgess' A Clockwork Orange and Aldous Huxley's Brave New World--Ira Levin's frightening glimpse into the future continues to fascinate readers even forty years after publication.The story is set in a seemingly perfect global society... |
| Subject: | |
| Subject: | |
| AE:PersName: | |
| AE:CorpName: | Harper Audio (Firm) |
| AE:CorpName: | Blackstone Audio, Inc., publisher. |
| AE:CorpName: | OverDrive, Inc, distributor. |
| Link: | |
| Link: | |
| Link: | |
| Link: | |
| Field | Ind | Subfield | Data |
| --- | --- | --- | --- |
| 001 Control No | | | 6183 |
| 005 LastTransaction | | | 20181130065817.0 |
| 006 Data Elem Addl | | | m o h |
| 007 Phys Desc Fixed | | | sz zunnnnnuneu |
| 007 Phys Desc Fixed | | | cr nnannnunuuu |
| 008 Data Elements | | | 140701s2014 orunnnn o f n eng d |
| 020 ISBN | | $a ISBN | 978-0-06-235775-5 (electronic audio bk.) |
| 020 ISBN | | $a ISBN | 978-0-06-235775-5 (electronic audio bk.) |
| 035 System Ctrl No | | $a System control number | (OCoLC)882257302 |
| 035 System Ctrl No | | $a System control number | (OCoLC)ocn882257302 |
| 037 Acq Source | | $a Stock number | 62E23B4E-FBBC-4508-AF98-44E711AECE63 |
| | | $b Source of stock no/acquisition | OverDrive, Inc. |
| | | $n Note | http://www.overdrive.com |
| 040 Cataloging Src | | $a Original cataloging agency | TEFOD |
| | | $b Language of cataloging | eng |
| | | $e Description conventions | rda |
| | | $e Description conventions | pn |
| | | $c Transcribing agency | TEFOD |
| | | $d Modifying agency | BKL |
| 049 | | $a | BKLA |
| 082 Dewey Class No | 04 | $a Classification number | 813/.5/4 |
| | | $2 Edition number | 23 |
| 099 | | $a | eAUDIO |
| 100 ME:PersonalName | 1 | $a Personal name | Levin, Ira, |
| | | $d Dates associated with a name | 1929-2007, |
| | | $e Relator term | author. |
| 245 Title | 10 | $a Title | This perfect day / |
| | | $c Statement of responsibility | by Ira Levin. |
| 250 Edition | | $a Edition statement | Unabridged. |
| 260 PublicationInfo | | $a Place of publication, dist. | New York : |
| | | $b Name of publisher, dist, etc | Harper Audio, |
| | | $c Date of publication, dist, etc | 2014. |
| 264 ProductnNotice | 1 | $a Place of prod/dist/manuf. | [Ashland, Oregon] : |
| | | $b Name of prod./pub./dist./man. | Blackstone Audio, Inc. : |
| | | $b Name of prod./pub./dist./man. | Harper Audio, |
| | | $c Date of prod/dist/manuf/copyrt | [2014] |
| 264 ProductnNotice | 4 | $c Date of prod/dist/manuf/copyrt | ""—2014. |
| 300 Physical Desc | | $a Extent | 1 online resource (1 sound file (11 hr., 15 min., 27 sec.)) : |
| | | $b Other physical details | digital. |
| 306 Playing Time | | $a Playing time | 111527. |
| 336 ContentType | | $a Content type term | spoken word |
| | | $b Content type code | spw |
| | | $2 Source | rdacontent. |
| 337 MediaType | | $a Media type term | computer |
| | | $b Media type code | c |
| | | $2 Source | rdamedia. |
| 338 CarrierType | | $a Carrier type term | online resource |
| | | $b Carrier type code | cr |
| | | $2 Source | rdacarrier. |
| 344 SoundCharacter | | $a Type of recording | digital |
| | | $b Recording medium | optical |
| | | $g Config. of playback channels | stereo |
| | | $2 Source | rda. |
| 347 DigitalFileType | | $a File type | audio file |
| | | $b Encoding format | CD audio |
| | | $2 Source | rda. |
| 500 General Note | | $a General note | "Tracks every 3 minutes for easy bookmarking"--Container. |
| 511 ParticipantNote | 0 | $a Participant or performer note | Read by Kevin T. Collins. |
| 520 Summary | | $a Summary, etc. note | By the author of Rosemary's Baby, a horrifying journey into a future only Ira Levin could imagine.Considered one of the great dystopian novels--alongside Anthony Burgess' A Clockwork Orange and Aldous Huxley's Brave New World--Ira Levin's frightening glimpse into the future continues to fascinate readers even forty years after publication.The story is set in a seemingly perfect global society... |
| 588 | | $a | Description based on hard copy version record. |
| 650 Subj:Topic | 0 | $a Topical term | Future life |
| | | $v Form subdivision | Fiction. |
| 650 Subj:Topic | 0 | $a Topical term | Dystopias |
| | | $v Form subdivision | Fiction. |
| 655 IT:Genre | 7 | $a Genre/form data or focus term | Dystopias. |
| | | $2 Source of term | gsafd. |
| 655 IT:Genre | 7 | $a Genre/form data or focus term | Science fiction. |
| | | $2 Source of term | gsafd. |
| 655 IT:Genre | 7 | $a Genre/form data or focus term | Audiobooks. |
| | | $2 Source of term | lcgft. |
| 655 IT:Genre | 4 | $a Genre/form data or focus term | Downloadable audio books. |
| 700 AE:PersName | 1 | $a Personal name | Collins, Kevin T., |
| | | $e Relator | narrator. |
| 710 AE:CorpName | 2 | $a Corporate name | Harper Audio (Firm) |
| 710 AE:CorpName | 2 | $a Corporate name | Blackstone Audio, Inc., |
| | | $e Relator term | publisher. |
| 710 AE:CorpName | 2 | $a Corporate name | OverDrive, Inc, |
| | | $e Relator term | distributor. |
| 776 | 08 | $i | Source record: |
| | | $a | Levin, Ira, author. |
| | | $t | This perfect day. |
| | | $b | Unabridged |
| | | $z | 9781483018195 |
| | | $w | (OCoLC)880902204. |
| 852 Holdings | | $a Location | TE |
| | | $h Classification part | FIC LEV |
| | | $p Barcode | 6854 |
| | | $9 Cost | $0.00 |
| 856 ElectronicLocat | 40 | $u Uniform Resource Identifier | http://digitalbooks.brooklynpubliclibrary.org/ContentDetails.htm?ID=62E23B4E-FBBC-4508-AF98-44E711AECE63 |
| | | $z Public note | An electronic audiobook accessible online |
| 856 ElectronicLocat | 4 | $3 Materials specified | Excerpt |
| | | $u Uniform Resource Identifier | http://excerpts.contentreserve.com/FormatType-25/0293-1/1765511-ThisPerfectDay.wma |
| 856 ElectronicLocat | 4 | $3 Materials specified | Excerpt |
| | | $u Uniform Resource Identifier | http://excerpts.contentreserve.com/FormatType-425/0293-1/1765511-ThisPerfectDay.mp3 |
| 856 ElectronicLocat | 4 | $3 Materials specified | Image |
| | | $u Uniform Resource Identifier | http://images.contentreserve.com/ImageType-100/0293-1/{62E23B4E-FBBC-4508-AF98-44E711AECE63}Img100.jpg |