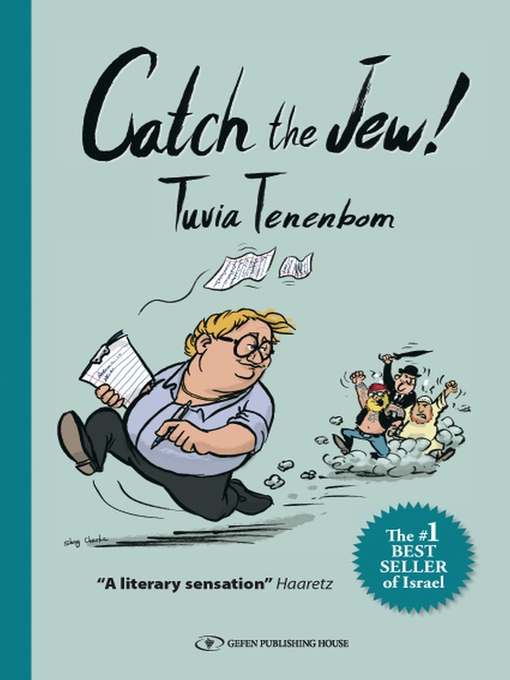 956.94 TEN
Catch the Jew!
Jerusalem : Gefen Publishing House, 2015.
1 online resource (648 p.).
Catch the Jew! recounts the adventures of gonzo journalist Tuvia Tenenbom, who wanders around Israel and the Palestinian Authority for seven months in search of the untold truths in today's Holy Land. With holy chutzpah, Tenenbom boldly goes where no Jew has gone before, at times risking his life as he assumes the identities of Tobi the German and even Abu Ali in order to probe into the many stories in this strange land and poke holes in all of them. From the self-hating leftists in Tel Aviv to the self-promoting PLO execs in Ramallah, from the black-clad Haredim of Bet Shemesh to the glowin.
Available
Regular
1 copy available at Temple Emanu-El
| | |
| --- | --- |
| ISBN: | |
| ISBN: | |
| Dewey Class No: | 956.94054 23 |
| Author: | |
| Title: | |
| Publisher: | Jerusalem : Gefen Publishing House, 2015. |
| Physical: | 1 online resource (648 p.). |
| Notes: | Description based upon print version of record. |
| Notes: | Gate Twenty: Meet the most charismatic man in Palestine, a genius spymaster, a raging, kind, serious, funny, ruthless leader, and find out how a Jew, Tobi the German, became a Saudi prince. |
| Summary: | Catch the Jew! recounts the adventures of gonzo journalist Tuvia Tenenbom, who wanders around Israel and the Palestinian Authority for seven months in search of the untold truths in today's Holy Land. With holy chutzpah, Tenenbom boldly goes where no Jew has gone before, at times risking his life as he assumes the identities of Tobi the German and even Abu Ali in order to probe into the many stories in this strange land and poke holes in all of them. From the self-hating leftists in Tel Aviv to the self-promoting PLO execs in Ramallah, from the black-clad Haredim of Bet Shemesh to the glowin. |
| Subject: | 2000 - 2099 |
| Subject: | |
| Subject: | |
| Subject: | |
| Subject: | |
| Subject: | |
| Subject: | |
| Subject: | |
| Subject: | |
| Subject: | |
| AE:CorpName: | OverDrive, Inc. |
| Link: | |
| Link: | |
| Link: | |
| Field | Ind | Subfield | Data |
| --- | --- | --- | --- |
| 001 Control No | | | 6181 |
| 005 LastTransaction | | | 20181130065818.0 |
| 006 Data Elem Addl | | | m o d |
| 007 Phys Desc Fixed | | | cr cnu---unuuu |
| 008 Data Elements | | | 150228s2015 is o 000 0 eng d |
| 019 | | $a | 922074560 |
| 020 ISBN | | $a ISBN | 978-965-229-824-9 |
| | | $q | electronic bk. |
| 020 ISBN | | $a ISBN | 978-965-229-824-9 |
| | | $q | electronic bk. |
| 035 System Ctrl No | | $a System control number | (OCoLC)904207854 |
| | | $z Canceled/invalid control no. | (OCoLC)922074560 |
| 035 System Ctrl No | | $a System control number | (OCoLC)ocn904207854 |
| 037 Acq Source | | $a Stock number | B1C7A9BF-4B35-4646-8AB0-0006FCB84944 |
| | | $b Source of stock no/acquisition | OverDrive, Inc. |
| | | $n Note | http://www.overdrive.com |
| 040 Cataloging Src | | $a Original cataloging agency | EBLCP |
| | | $b Language of cataloging | eng |
| | | $c Transcribing agency | EBLCP |
| | | $d Modifying agency | TEFOD |
| | | $d Modifying agency | OCLCF |
| | | $d Modifying agency | OCLCO |
| | | $d Modifying agency | TEFOD |
| | | $d Modifying agency | YDXCP |
| | | $d Modifying agency | BKL |
| 049 | | $a | BKLA |
| 082 Dewey Class No | 04 | $a Classification number | 956.94054 |
| | | $2 Edition number | 23 |
| 099 | | $a | eBOOK |
| 100 ME:PersonalName | 1 | $a Personal name | Tenenbom, Tuvia. |
| 245 Title | 10 | $a Title | Catch the Jew! |
| | | $h Medium | [electronic resource]. |
| 260 PublicationInfo | | $a Place of publication, dist. | Jerusalem : |
| | | $b Name of publisher, dist, etc | Gefen Publishing House, |
| | | $c Date of publication, dist, etc | 2015. |
| 300 Physical Desc | | $a Extent | 1 online resource (648 p.). |
| 500 General Note | | $a General note | Description based upon print version of record. |
| 500 General Note | | $a General note | Gate Twenty: Meet the most charismatic man in Palestine, a genius spymaster, a raging, kind, serious, funny, ruthless leader, and find out how a Jew, Tobi the German, became a Saudi prince. |
| 505 ContentsNote | 0 | $a Formatted contents note | Cover Page; Title Page; Copyrights Page; Dedication; Praise for Catch the Jew!; Acknowledgments and Thanks; Introduction; Farewell and Welcome: Armed with a wink and a smile from a beautiful Turkish lady, I start my journey to the Holy Land; Gate One: What happens when the feminine side of God, the son of God, and the messenger of God meet a sexy German girl who helps the Arabs because she loves the Jews? |
| 505 ContentsNote | 8 | $a Formatted contents note | Gate Two: Did you ever try Islamic beer? Would you like to be blessed by the rabbi of Auschwitz? Would you like to date a Jewish Taliban lady? How would a rabbi know that his wife is menstruating?Gate Three: Would you like to join thousands of dead Jews guarded by a German convert?; Gate Four: Facts: No Jewish state ever existed here. Jews must pay Arabs for five years of music training. Palestine was founded fourteen thousand years ago.; Gate Five: An American Jew loves his old mama so much that he wants to see her homeless.; Gate Six: An Israeli soldier detains President Barack Obama. |
| 505 ContentsNote | 8 | $a Formatted contents note | Gate Seven: Little white Jew doesn't want to marry little black Jew. German teenagers wouldn't mind watching Jews being stoned. A soldier drives nine hours to meet his dead comrade.Gate Eight: An American Jewish lady finds the Jewish libido and an Israeli biblical expert can't recall the Book of Isaiah.; Gate Nine: A man who invented three words, Na Nakh Nakhman, changes a country.; Gate Ten: God is naked and gay. |
| 505 ContentsNote | 8 | $a Formatted contents note | Gate Eleven: What's a German minister doing among stray dogs? Why are Israeli soldiers scared when Arab kids throw stones at young Jewish ladies? Why is Catalonia spending millions on an old lady?Gate Twelve: A Jew finds the "Jewish racist DNA."; Gate Thirteen: Palestinians discover "Our Lady of Palestine" plus 368,000 Zionist colonialists; Gate Fourteen: Germans in the Holy Land: dead and alive; Gate Fifteen: You are heartily invited to attend three days of romantic German-inspired dances in Jordan performed by Germans who are in love with peace and Arabs. |
| 505 ContentsNote | 8 | $a Formatted contents note | Gate Sixteen: Cats, the UN and the Chosen GoldenGate Seventeen: Sponsored by the European Commission, Italian teenagers come to the Holy Land to take pictures of homeless Palestinians; Gate Eighteen: Ordained by God and the angels, a rabbi will save you from turning into a she-ass; Gate Nineteen: The European Commission heartily invites you to a fact-finding mission led by an ex-Jew who will take you to the Holocaust Museum in Jerusalem and unveil the true face of lying, brutal, murderous, syphilis-ridden Jews, dead and alive. |
| 520 Summary | | $a Summary, etc. note | Catch the Jew! recounts the adventures of gonzo journalist Tuvia Tenenbom, who wanders around Israel and the Palestinian Authority for seven months in search of the untold truths in today's Holy Land. With holy chutzpah, Tenenbom boldly goes where no Jew has gone before, at times risking his life as he assumes the identities of Tobi the German and even Abu Ali in order to probe into the many stories in this strange land and poke holes in all of them. From the self-hating leftists in Tel Aviv to the self-promoting PLO execs in Ramallah, from the black-clad Haredim of Bet Shemesh to the glowin. |
| 648 Subj:Chronolog | 7 | $a Chronological term | 2000 - 2099 |
| | | $2 Source of heading or term | fast. |
| 650 Subj:Topic | 0 | $a Topical term | Israelis |
| | | $v Form subdivision | Interviews. |
| 650 Subj:Topic | 0 | $a Topical term | Palestinian Arabs |
| | | $z Geographic subdivision | Israel |
| | | $v Form subdivision | Interviews. |
| 650 Subj:Topic | 0 | $a Topical term | Nonprofit organizations |
| | | $x General subdivision | Political activity |
| | | $z Geographic subdivision | Israel. |
| 650 Subj:Topic | 0 | $a Topical term | Arab-Israeli conflict. |
| 650 Subj:Topic | 7 | $a Topical term | Arab-Israeli conflict. |
| | | $2 Source of heading or term | fast |
| | | $0 | (OCoLC)fst00812220. |
| 650 Subj:Topic | 7 | $a Topical term | Israelis. |
| | | $2 Source of heading or term | fast |
| | | $0 | (OCoLC)fst00980357. |
| 650 Subj:Topic | 7 | $a Topical term | Nonprofit organizations |
| | | $x General subdivision | Political activity. |
| | | $2 Source of heading or term | fast |
| | | $0 | (OCoLC)fst01038926. |
| 650 Subj:Topic | 7 | $a Topical term | Palestinian Arabs. |
| | | $2 Source of heading or term | fast |
| | | $0 | (OCoLC)fst01051590. |
| 650 Subj:Topic | 7 | $a Topical term | Travel. |
| | | $2 Source of heading or term | fast |
| | | $0 | (OCoLC)fst01155558. |
| 651 Subj:Geog | 0 | $a Geographic name | Israel |
| | | $x General subdivision | Description and travel. |
| 651 Subj:Geog | 7 | $a Geographic name | Israel. |
| | | $2 Source of heading or term | fast |
| | | $0 | (OCoLC)fst01204236. |
| 655 IT:Genre | 4 | $a Genre/form data or focus term | Electronic books. |
| 655 IT:Genre | 7 | $a Genre/form data or focus term | Interviews. |
| | | $2 Source of term | fast |
| | | $0 | (OCoLC)fst01423832. |
| 710 AE:CorpName | 2 | $a Corporate name | OverDrive, Inc. |
| 776 | 08 | $i | Print version: |
| | | $a | Tenenbom, Tuvia. |
| | | $t | Catch The Jew! |
| | | $d | Jerusalem : Gefen Publishing House,c2015 |
| | | $z | 9789652297983. |
| 852 Holdings | | $a Location | TE |
| | | $h Classification part | 956.94 TEN |
| | | $p Barcode | 6852 |
| | | $9 Cost | $0.00 |
| 856 ElectronicLocat | 4 | $3 Materials specified | Excerpt |
| | | $u Uniform Resource Identifier | https://samples.overdrive.com/catch-the-jew?.epub-sample.overdrive.com |
| 856 ElectronicLocat | 4 | $3 Materials specified | Image |
| | | $u Uniform Resource Identifier | http://images.contentreserve.com/ImageType-100/2281-1/{B1C7A9BF-4B35-4646-8AB0-0006FCB84944}Img100.jpg |
| 856 ElectronicLocat | 40 | $u Uniform Resource Identifier | http://digitalbooks.brooklynpubliclibrary.org/ContentDetails.htm?ID=B1C7A9BF-4B35-4646-8AB0-0006FCB84944 |
| | | $z Public note | An electronic book accessible online |