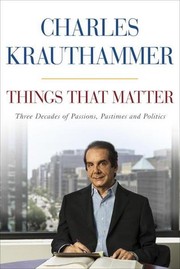 973.93 KRA
Things that matter : three decades of passions, pastimes, and politics
New York, NY : Crown, [2013]
x, 387 pages ; 25 cm.
America's preeminent columnist presents his penetrating and surprising reflections on everything from embryo research to entitlement reform, from Halley's Comet to border collies, from Christopher Columbus to Martin Luther King, from drone warfare to American decline. Features a special, highly autobiographical introduction.
Available
Regular
1 copy available at Temple Emanu-El
| | |
| --- | --- |
| ISBN: | |
| ISBN: | |
| Dewey Class No: | 973.93 23 |
| Author: | |
| Title: | Things that matter : three decades of passions, pastimes, and politics / Charles Krauthammer. |
| Edition: | First edition. |
| Physical: | x, 387 pages ; 25 cm. |
| ContentType: | |
| MediaType: | |
| CarrierType: | |
| Notes: | Includes index. |
| Summary: | America's preeminent columnist presents his penetrating and surprising reflections on everything from embryo research to entitlement reform, from Halley's Comet to border collies, from Christopher Columbus to Martin Luther King, from drone warfare to American decline. Features a special, highly autobiographical introduction. |
| Subject: | Krauthammer, Charles,--1950- |
| Subject: | |
| Link: | |
| Field | Ind | Subfield | Data |
| --- | --- | --- | --- |
| 001 Control No | | | 6160 |
| 005 LastTransaction | | | 20181030092556.0 |
| 008 Data Elements | | | 130218s2013 nyu 001 0 eng d |
| 020 ISBN | | $a ISBN | 978-0-385-34917-8 (hc.) : |
| | | $c Terms of availability | $28.00 |
| 020 ISBN | | $a ISBN | 978-0-385-34917-8 (hc.) |
| 035 System Ctrl No | | $a System control number | (OCoLC)827973760 |
| 035 System Ctrl No | | $a System control number | (OCoLC)ocn827973760 |
| 040 Cataloging Src | | $a Original cataloging agency | YDXCP |
| | | $b Language of cataloging | eng |
| | | $e Description conventions | rda |
| | | $c Transcribing agency | YDXCP |
| | | $d Modifying agency | BTCTA |
| | | $d Modifying agency | BDX |
| | | $d Modifying agency | UPZ |
| | | $d Modifying agency | UKMGB |
| | | $d Modifying agency | JAI |
| | | $d Modifying agency | CGP |
| | | $d Modifying agency | HCO |
| | | $d Modifying agency | MOF |
| | | $d Modifying agency | BKL |
| 043 GAC | | $a Geographic area code | n-us--- |
| 049 | | $a | BKLA |
| 082 Dewey Class No | 04 | $a Classification number | 973.93 |
| | | $2 Edition number | 23 |
| 099 | | $a | 320.973 |
| | | $a | K |
| 100 ME:PersonalName | 1 | $a Personal name | Krauthammer, Charles, |
| | | $d Dates associated with a name | 1950-, |
| | | $e Relator term | author. |
| 245 Title | 10 | $a Title | Things that matter : |
| | | $b Remainder of title | three decades of passions, pastimes, and politics / |
| | | $c Statement of responsibility | Charles Krauthammer. |
| 250 Edition | | $a Edition statement | First edition. |
| 264 ProductnNotice | 1 | $a Place of prod/dist/manuf. | New York, NY : |
| | | $b Name of prod./pub./dist./man. | Crown, |
| | | $c Date of prod/dist/manuf/copyrt | [2013] |
| 264 ProductnNotice | 4 | $c Date of prod/dist/manuf/copyrt | ©2013. |
| 300 Physical Desc | | $a Extent | x, 387 pages ; |
| | | $c Dimensions | 25 cm. |
| 336 ContentType | | $a Content type term | text |
| | | $b Content type code | txt |
| | | $2 Source | rdacontent. |
| 337 MediaType | | $a Media type term | unmediated |
| | | $b Media type code | n |
| | | $2 Source | rdamedia. |
| 338 CarrierType | | $a Carrier type term | volume |
| | | $b Carrier type code | nc |
| | | $2 Source | rdacarrier. |
| 500 General Note | | $a General note | Includes index. |
| 520 Summary | | $a Summary, etc. note | America's preeminent columnist presents his penetrating and surprising reflections on everything from embryo research to entitlement reform, from Halley's Comet to border collies, from Christopher Columbus to Martin Luther King, from drone warfare to American decline. Features a special, highly autobiographical introduction. |
| 600 Subj:Name | 10 | $a Personal name | Krauthammer, Charles, |
| | | $d Dates associated | 1950- |
| 650 Subj:Topic | 0 | $a Topical term | Popular culture |
| | | $z Geographic subdivision | United States |
| | | $x General subdivision | History. |
| 651 Subj:Geog | 0 | $a Geographic name | United States |
| | | $x General subdivision | Politics and government. |
| 651 Subj:Geog | 0 | $a Geographic name | United States |
| | | $x General subdivision | Civilization. |
| 852 Holdings | | $a Location | TE |
| | | $h Classification part | 973.93 KRA |
| | | $p Barcode | 6828 |
| | | $9 Cost | $0.00 |
| 856 ElectronicLocat | 4 | $3 Materials specified | Cover image |
| | | $u Uniform Resource Identifier | https://covers.openlibrary.org/b/id/7270420-M.jpg |