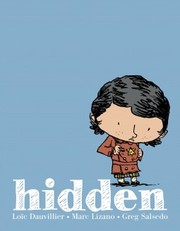 JUV SHOA DAU
Hidden : a child's story of the Holocaust
New York : First Second, 2014.
76 pages : chiefly color illustrations ; 24 cm.
"A grandmother shares the story of her experiences in WWII with her grandchild in this graphic novel for young readers"-- Provided by publisher.
Donated by: Shirley Naito in honor of Sally Morgan and Deborah Washofsky.
Due 02/19/20
Donated Materials
All copies at Temple Emanu-El are out and the next copy is due back 02/19/20
| Field | Ind | Subfield | Data |
| --- | --- | --- | --- |
| 001 Control No | | | 4686 |
| 005 LastTransaction | | | 20200117145356.0 |
| 008 Data Elements | | | 130715s2014 nyua j 6 000 0 eng |
| 010 LCCN | | $a Record content licensor | 2013023168 |
| 020 ISBN | | $a ISBN | 978-1-59643-873-6 (hardback) : |
| | | $c Terms of availability | $16.99 |
| 020 ISBN | | $a ISBN | 978-1-59643-873-6 (hardback) |
| 035 System Ctrl No | | $a System control number | (OCoLC)846545746 |
| | | $z Canceled/invalid control no. | (OCoLC)846553380 |
| 035 System Ctrl No | | $a System control number | (OCoLC)ocn846545746 |
| 040 Cataloging Src | | $a Original cataloging agency | DLC |
| | | $e Description conventions | rda |
| | | $b Language of cataloging | eng |
| | | $c Transcribing agency | DLC |
| | | $d Modifying agency | IG# |
| | | $d Modifying agency | BTCTA |
| | | $d Modifying agency | YDXCP |
| | | $d Modifying agency | BDX |
| | | $d Modifying agency | OCLCO |
| | | $d Modifying agency | BKL |
| 041 Language Code | 1 | $a Text/soundtrack/separate title | eng |
| | | $h Orig/intermediate tranlations | fre |
| 043 GAC | | $a Geographic area code | e-fr--- |
| 049 | | $a | BKLA |
| 082 Dewey Class No | 00 | $a Classification number | 741.5/31 |
| | | $2 Edition number | 23 |
| 099 | | $a | J |
| | | $a | FIC |
| | | $a | DAUVILLIER |
| 100 ME:PersonalName | 1 | $a Personal name | Dauvillier, Loïc, |
| | | $d Dates associated with a name | 1971- |
| 240 UniformTitle | 10 | $a Uniform title | Enfant cachée. |
| | | $l Language of a work | English. |
| 245 Title | 10 | $a Title | Hidden : |
| | | $b Remainder of title | a child's story of the Holocaust / |
| | | $c Statement of responsibility | written by Loïc Dauvillier ; illustrated by Marc Lizano ; color by Greg Salsedo ; translated by Alexis Siege. |
| 250 Edition | | $a Edition statement | First American edition. |
| 264 ProductnNotice | 1 | $a Place of prod/dist/manuf. | New York : |
| | | $b Name of prod./pub./dist./man. | First Second, |
| | | $c Date of prod/dist/manuf/copyrt | 2014. |
| 300 Physical Desc | | $a Extent | 76 pages : |
| | | $b Other physical details | chiefly color illustrations ; |
| | | $c Dimensions | 24 cm. |
| 336 ContentType | | $a Content type term | text |
| | | $2 Source | rdacontent. |
| 336 ContentType | | $a Content type term | still image |
| | | $2 Source | rdacontent. |
| 337 MediaType | | $a Media type term | unmediated |
| | | $2 Source | rdamedia. |
| 338 CarrierType | | $a Carrier type term | volume |
| | | $2 Source | rdacarrier. |
| 500 General Note | | $a General note | "Originally published in 2012 by Le Lombard under the title L'Enfant Caché"--Copyright page. |
| 520 Summary | | $a Summary, etc. note | "A grandmother shares the story of her experiences in WWII with her grandchild in this graphic novel for young readers"-- |
| | | $c | Provided by publisher. |
| 541 Acq Source Note | | $a Source of acquisition | Shirley Naito in honor of Sally Morgan and Deborah Washofsky. |
| 650 Subj:Topic | 0 | $a Topical term | Holocaust, Jewish (1939-1945) |
| | | $z Geographic subdivision | France |
| | | $v Form subdivision | Comic books, strips, etc. |
| 650 Subj:Topic | 0 | $a Topical term | Holocaust, Jewish (1939-1945) |
| | | $z Geographic subdivision | France |
| | | $v Form subdivision | Fiction. |
| 650 Subj:Topic | 0 | $a Topical term | Jews |
| | | $z Geographic subdivision | France |
| | | $v Form subdivision | Fiction. |
| 650 Subj:Topic | 0 | $a Topical term | Grandmothers |
| | | $v Form subdivision | Fiction. |
| 651 Subj:Geog | 0 | $a Geographic name | France |
| | | $x General subdivision | History |
| | | $y Chronological subdivision | German occupation, 1940-1945 |
| | | $v Form subdivision | Fiction. |
| 655 IT:Genre | 0 | $a Genre/form data or focus term | Graphic novels. |
| 655 IT:Genre | 0 | $a Genre/form data or focus term | Comic books, strips, etc. |
| 700 AE:PersName | 1 | $a Personal name | Lizano, Marc, |
| | | $d Dates of flourishing | 1970-, |
| | | $e Relator | illustrator. |
| 700 AE:PersName | 1 | $a Personal name | Siege, Alexis, |
| | | $e Relator | translator. |
| 852 Holdings | | $a Location | TE |
| | | $p Barcode | 5127 |
| | | $9 Cost | $0.00 |
| | | $h Classification part | JUV SHOA DAU |
| 856 ElectronicLocat | 4 | $3 Materials specified | Cover image |
| | | $u Uniform Resource Identifier | https://covers.openlibrary.org/b/id/7448817-M.jpg |